Combined hormonal contraceptives and the subsequent risk of a venous thromboembolism
Download this issue
Back to summary
Combined hormonal
contraceptives and the subsequent
risk of a venous thromboembolism
Christian Jamin
Gynecologist
Paris, France
Abstract
Recent public alarm in European countries has renewed concerns about the safety of oral contraceptive pills (OCPs) after women sued manufacturers for potentially fatal venous thromboembolisms resulting from using OCPs (particularly those combining estrogen and the new generations of progestin). Earlier studies, reporting an increased risk of venous thromboembolisms, produced conflicting results and had methodological limitations, calling into question the validity of the findings and conclusions about the magnitude of the additional risk associated with using the new progestin-containing contraceptives. Finally, the World Health Organization, the United States Food and Drug Administration, and the European Medicines Agency reviewed the recent epidemiological studies and stated that these studies had not shown the magnitude of increased risk of venous thromboembolism events that have been reported in earlier studies as a result of using third- and fourth-generation combined oral contraceptives. However, since other factors, such as age and lifestyle factors, influence the risk of venous thromboembolism, health authorities advise health professionals to consider the possibility of the increased thromboembolic risk before prescribing OCPs.
Introduction
Oral contraceptive pills (OCPs) combining estrogen and a third- or fourthgeneration progestin are commonly prescribed drugs for young women, with the greatest risk potentially being thromboembolisms. Data have been accumulating showing that some combined oral contraceptives containing new-generation and antiandrogenic progestogens have a higher risk of venous thromboembolism (VTE) than older drugs, such as levonorgestrel. This risk has been greatly overestimated in Europe and strongly discussed in the French media during the winter of 2013, which resulted in the removal of Diane®35, an oral contraceptive combining 35 μg of ethinyl estradiol (EE) and 2 mg of cyproterone acetate (CPA), a fourth-generation progestin, from the French market. For a time, this episode heaped opprobrium on all contraceptive pills containing third- and fourth-generation progestin.
The recent publication of three meta-analyses,1-3 one Cochrane review,4 and two original ,6 renewed the concerns about the risk of VTE events among women using combined OCPs with different types of progestin. Results from these reviews were contradictory and the causal relationship was not clear. The latest editions from a variety of groups, including the World Health Organization (WHO), the United States Food and Drug Administration (FDA), and the European Medicines Agency (EMA), have commented on the factors to consider when choosing a particular contraceptive method. They have consistently concluded that, although there may be differences in the VTE risk between products with different progestins, the absolute risks are very small. The benefit-risk ratio of all combined contraceptives has been stated as positive.
Finally, the EMA asked the French Health Authorities to reintroduce Diane®35 on the market, meaning that the 2013 French controversy against contraceptive pills has been summarized as "Much Ado About Nothing" (William Shakespeare).
The aim of this review is to understand the possible biases in the studies on the relationship between VTE risk and OCPs, and help choose a contraceptive method according to the patient's personal history and characteristics.
Contraceptives and risk of thromboembolism: data from recent meta-analyses and prospective studies
A 2012 review1 demonstrated a 6-fold higher risk of VTE events when using combined OCPs containing third- (desogestrel [DSG], gestodene [GSD]) and fourth- (drospirenone [DRSP], CPA]) generation progestin and when using the contraceptive vaginal ring compared with nonusers. The relative VTE risk between combined OCPs containing the new generations of progestin compared with OCPs containing levonorgestrel (LNG) was 1.5 to 2.8 in seven studies and 1.0 in two studies.1 Based on this data, it was concluded that progestogen-only contraceptives did not confer an increased risk of VTE events. Nevertheless, most of the analyzed studies were rather old, which was the major critique of this review.2
Peragallo Urrutia et al compared the risk of VTE events in users vs nonusers of OCPs and confirmed that nonusers have a lower risk of developing venous thromboses (Figure 1).3 However, they did not report an increased risk of VTE eventswith third- and fourth-generation progestin vs second generation progestin. First- (odds ratio [OR], 4.06; 95% CI, 2.66-6.19), second- (OR, 3.28; 95% CI, 2.49-4.31), third- (OR, 4.06; 95% CI, 3.09-5.32), and fourth- (OR, 5.36; 95% CI, 2.78-10.32) generation progestins were associated with an increased risk of VTE events in OCP users compared with nonusers as a reference group, with no difference according to the dose of EE and the type and generation of progestin (Figure 2).3
A review by Stegeman et al also found an increased risk of VTE events with the use of combined OCPs compared with nonuse. The use of OCPs increased the risk of VTE events 4-fold compared with nonuse (relative risk [RR], 3.5; 95% CI, 2.9-4.3).4 All generations of progestin were associated with an increased risk of VTE, and third-generation users (GSD, DSG) had a slightly higher risk compared with second-generation users (LNG). However, the authors focused on the dose-related effect of EE–higher doses of EE were associated with a higher risk of thrombosis for all generations of progestin.
The same team published a Cochrane review discussing the respective role of progestin and EE in VTE events with the use of OCPs. The authors concluded that OCPs with the highest risk of VTE events associate LNG with a high EE dose, ie, 50 μg EE (50LNG). OCPs with an intermediate risk of a VTE event include the following: 30 μg EE+DRSP (30DRSP), 35 μg EE+CPA (35CPA), and 30 μg EE+DSG (30DSG). Finally, the OCPs 30LNG, 20LNG, and 20GSD have the lowest risk of VTE events.5
Dinger et al, in two prospective studies, compared the use of vaginal rings with OCPs6 and the risks of short- and long-term use of an extended 24-day regimen of DRSP and EE (DRSP24d) with established combinations for the other OCPs.7 The authors found that routinely using a vaginal ring, DRSP24d, and combined OCPs were associated with similar venous and arterial thromboembolic risks (Table I).
Methodological limitations and study bias
Methodological limitations have called into question the validity of recent and earlier findings and conclusions about the magnitude of the additional risk associated with using these products. Therefore, the following section will discuss the caveats of both study design and analysis.
<strong Randomized controlled trials
Due to the very-low baseline thrombosis rate in women (1 to 5 VTE events per year per 10 000 users), randomized controlled trials to compare VTE risks between the various existing OCPs are hardly feasible. Indeed, the sample size should be very large, with the enrollment of at least 500 000 women and a requirement of a 5- to 10-year follow-up. Therefore, only observational studies have been conducted, which are prospective for some and retrospective for others.
Prospective trials
Despite follow-up data from a very large sample of OCP users (>100 000), the number of VTE events remain limited at ≈50 to 60 events. Consequently, differences in the risk of VTE events between OCPs have never reached statistical significance. In addition, these trials are often supported by pharmaceutical companies commercializing OCPs, as suggested by some authors.3
Retrospective trials of the "health economic" type
A Danish study by Lidegaard et al analyzed the risk of VTE events in 3 million woman-years.8 Unfortunately, this type of study usually contains a lot of bias, making interpretation of the results difficult.
Meta-analyses
Meta-analyses are not always the panacea because they are a review of studies that are often biased; making the subsequent meta-analyses also biased. However, preestablished criteria for retaining studies to be analyzed contribute to the selection of less biased trials and attenuate the flaws of each study taken separately. In addition to the selection criteria, the statistical evaluation of the studies homogeneity adds to the consistency of the results. For instance, in the 2013 review by Peragallo Urrutia et al, which analyzed carefully selected trials after application of rigorous criteria and the crossover of various confidence intervals, EE dose and the generation of progestin were found to have no influence on the risk of VTE events.3
Bias at inclusion
The following section identifies biases found in comparative studies.
Lack of randomization and missing patient characteristics at inclusion
Patient characteristics at inclusion must be homogeneous between comparison groups. In the 2009 version of the Danish study, patients' weight and family history of VTE were missing,8 and yet, these two parameters have been shown to influence the risk of VTE events. A positive family history would be an independent risk factor for a VTE event that may reflect the presence of a hereditary thrombophilic disorder9; however, routine screening for such conditions is not justified.10 On the other hand, overweight patients would have a higher risk of a VTE event.11 Pomp et al reported a 24-fold higher thrombotic risk (OR, 23.78; 95% CI, 13.35-42.34) in women with a body mass index (BMI) ≥30 who used OCPs vs women with a normal BMI who did not use contraceptives (Figure 3).12
Lack of homogeneity between groups, together with the absence of randomization, may greatly bias the results. This was the case in the studies that put into question the safety of the third-generation progestins in combined OCPs (combined OCPs 3) compared with second-generation progestins (combined OCPs 2). After reanalysis of the results, we found that women assigned to the combinedOCPs 2 group were at a higher risk of VTE events, even before they had taken their pills!13
Number of new users in each group
During the first 6 months, new OCP users are at a 3- to 10- fold higher risk of VTE events.4 Prospective studies by Dinger et al that homogenized the groups regarding weight at inclusion found no difference in VTE risk between new second-, third-, and fourth-generation progestin users.6,7
In a retrospective study by Sydney et al, DRSP was associated with a higher risk of venous and arterial thrombotic events in new users compared with low-dose estrogen OCPs.14 However, weight and family history of VTEs were not considered in this last trial. Since pills containing DRSP have, for some time, been believed to prevent weight gain, overweight women might have been over represented in the DRSP group.
In August 2012, the FDA issued a safety communication stating that "drospirenone-containing birth control pills may be associated with a higher risk for blood clots than other progestin-containing pills," but emphasized that the available epidemiological studies showed conflicting results and other factors may have accounted for the differences.15
Number of women with acne
Women with acne are more likely to suffer from polycystic ovary syndrome (PCOS). Recently, Bird et al found a 2-fold and 1.5-fold higher risk of VTE events among women with PCOS who were taking combined OCPs and women with PCOS not taking OCPs, respectively.16
VTE diagnosis
A VTE diagnosis may occur after a clinical or biological examination, or it may be detected using imaging (Duplex scan [DS]). Over- or underestimation of VTEs will depend on the technique of investigation used. Hospitalized women with a presumption of a VTE event will often benefit from a DS investigation, while a VTE event in outpatient women will be clinically diagnosed. Lidegaard et al reported that among women who were diagnosed with a VTE at clinical examination, less than 50% had their VTE confirmed at DS investigation.8 Changes in the results of coagulation tests as a result of using third- and fourth-generation combined OCPs have not been shown to be directly responsible for an increase in VTE events.
Choice of the evaluation criteria
The increased risk of VTE events should not be the onlyevaluation criteria involved in the benefit-risk ratio of OCPs. Although the increased risk of VTE events seems ominous, it should be put in context of the very-low baseline thrombosis rate in young women (1 to 5/10 000). Most reviews estimate a number needed to harm of 300 for VTE events over 5 years of OCP use.
It is also important to remember that the contraceptive effect of OCPs is beneficial against adverse events associated with pregnancy. The FDA also underlined that "the risk of blood clots is higher when using any birth control pill than not using them, but still remains lower than the risk of developing blood clots during pregnancy and the postpartum period."15 This is particularly true for "unwanted" pregnancies that are likely to be interrupted for which the risk of a VTE event is high.
Factors to consider when choosing a particular contraceptive method
As with all licensed medicines, combined OCPs are continuously monitored by the licensing authorities, who work to ensure that healthcare professionals and women have access to the best possible information on the risks and benefits of these medicines. In order to allow health professionals to make the best choice for contraception, factors to consider when choosing a particular contraceptive method include the characteristics of the potential user, the background risk of disease, safety and adverse effect profiles of the different products, cost, availability, and patient preferences.
In February 2013, the EMA started a new review of all available data on the risk of VTEs and arterial thromboembolisms with several combined hormonal contraceptives containing the following progestogens: chlormadinone, desogestrel, dienogest, drospirenone, etonogestrel, gestodene, nomegestrol, norelgestromin, and norgestimate. An update from the Pharmacovigilance Risk Assessment Committee (PRAC) of the EMA on the use of these products was released in November 2013 and they concluded that the benefits of combined OCPs in preventing unwanted pregnancies continue to outweigh their risks, and that the well-known risk of VTE events with all OCPs is small.17 Recommendations are summarized in Table II.
The EMA review reinforces:
"the importance of ensuring that clear and up-todate information is provided to women who use contraceptives and to the healthcare professionals giving advice and clinical care.
The product information of combined OCPs has been updated to help women make informed decisions about their choice of contraception together with their healthcare professional. It is important that women are made aware of the risk of VTE and its signs and symptoms, and that doctors take into consideration a woman's individual risk factors when prescribing a contraceptive. Doctors should also consider how the risk of VTE with a particular combined OCP compares with other OCPs.
The review also looked at the risk of arterial thromboembolism (ATE, blood clots in arteries, which can potentially cause a stroke or heart attack). This risk is very low and there is no evidence for a difference in the level of risk between products depending on the type of progestogen."17
Separately, the EMA conducted a review on the use of Diane®35 and its generics. The EMA reminded prescribers that these preparations should only be used for the treatment of moderate to severe acne related to androgen sensitivity or hirsutism in women of reproductive age. Although the preparations also prevent conception, this is not their main purpose. It is essential that neither Diane®35 nor its generics be used with hormonal contraception.18
The WHO Medical Eligibility Criteria (2010) indicated that women with a history of deep venous thrombosis (DVT) or pulmonary embolism (PE), acute DVT/PE, DVT/ PE and established on anticoagulant therapy, or women who have been through a major surgery with prolonged immobilization are not eligible to take combined OCPs.19
The WHO also convened a series of technical consultations between the 13th and 16th of May 2013 in order to plan the guideline updates by considering the evidence related to the risk of VTE events associated with oral contraceptive formulations with various progestogens. Once this process has been completed, the WHO will be in a position to provide global guidance on this issue.
However, at this time, there is no need to change existing practices, and the conclusions reached by medicine regulatory authorities can be used by health professionals and their clients when making informed choices between alternative contraceptive options.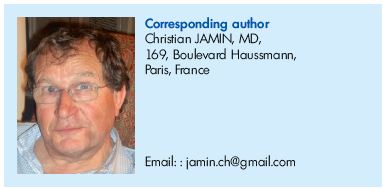 REFERENCES
1. Lidegaard Ø, Milsom I, Geirsson RT, Skjeldestad FE. Hormonal contraception and venous thromboembolism. Acta Obstet Gynecol Scand. 2012;91:769- 778.
2. Martinelli J, Drapier-Faure E, Faure M. The French controversy on Diane 35: contraception of acne women [In French]. Thérapeutique en Dermato-Vénérologie. 2014;237:22-26.
3. Peragallo Urrutia R, Coeytaux RR, McBroom AJ, et al. Risk of acute thromboembolic events with oral contraceptive use: a systematic review and meta-analysis. Obstet Gynecol. 2013;122:380-389.
4. Stegeman BH, de Bastos M, Rosendaal FR, et al. Different combined oral contraceptives and the risk of venous thrombosis: systematic review and network meta-analysis. BMJ. 2013;347:f5298.
5. de Bastos M, Stegeman BH, Rosendaal FR, et al. Combined oral contraceptives: venous thrombosis. Cochrane Database Syst Rev. 2014;3:CD010813.
6. D inger J, Möhner S, Heinemann K. Cardiovascular risk associated with the use of an etonogestrel-containing vaginal ring. Obstet Gynecol. 2013;122:800-808.
7. D inger J, Bardenheuer K, Heinemann K. Cardiovascular and general safety of a 24-day regimen of drospirenonecontaining combined oral contraceptives: final results from the International Active Surveillance Study of Women Taking Oral Contraceptives. Contraception. 2014;89:253-263.
8. Lidegaard Ø, Løkkegaard E, Svendsen AL, Agger C. Hormonal contraception and risk of venous thromboembolism: national follow-up study. BMJ. 2009;339:b2890.
9. Zöller B, Li X, Sundquist J, Sundquist K. Age- and gender-specific familial risks for venous thromboembolism: a nationwide epidemiological study based on hospitalizations in Sweden. Circulation. 2011;124:1012-1020.
10. Martínez F, Avecilla A. Combined hormonal contraception and venous thromboembolism. Eur J Contracept Reprod Health Care. 2007;12:97-106.
11. K akkar VV, Howe CT, Nicolaides AN, Renney JT, Clarke MB. Deep vein thrombosis of the leg. Is there a "high risk" group? Am J Surg. 1970;120:527- 530.
12. Pomp ER, le Cessie S, Rosendaal FR, Doggen CJ. Risk of venous thrombosis: obesity and its joint effect with oral contraceptive use and prothrombotic mutations. Br J Haematol. 2007;139:289-296.
13. Jamin C, Benifla JL, Madelenat P. The role of selective prescribing in the increased risk of VTE associated with third-generation oral contraceptives. Hum Reprod Update. 1999;5:664-671.
14. Sidney S, Cheetham TC, Connell FA, et al. Recent combined hormonal contraceptives (CHCs) and the risk of thromboembolism and other cardiovascular events in new users. Contraception. 2013;87:93-100.
15. FDA Drug Safety Communication (2012): updated information about the risk of blood clots in women taking birth control pills containing drospirenone. http://www.fda.gov/Drugs/DrugSafety/ ucm299305.htm. Accessed June 23, 2015.
16. Bird ST, Hartzema AG, Brophy JM, Etminan M, Delaney JA. Risk of venous thromboembolism in women with polycystic ovary syndrome: a populationbased matched cohort analysis. CMAJ. 2013;185:E115-E120.
17. European Medicines Agency (2013). Benefits of combined hormonal contraceptives (CHCs) continue to outweigh risks. http://www. ema.europa.eu/docs/en_GB/ document_library/Referrals_document/ Combined_hormonal_contraceptives/ European_Commission_final_decision/ WC500160277.pdf. Accessed June 23, 2015.
18. European Medicines Agency. (2013). Benefits of Diane and generics outweigh risks in specific patient groups, PRAC recommends measures to minimize risks of thromboembolism. http://www.ema. europa.eu/docs/en_GB/document_ library/Press_release/2013/05/ WC500143774.pdf. Accessed June 23, 2015.
19. D epartment of Reproductive Health, World Health Organization. Medical eligibility criteria for contraceptive use, 4th ed. Geneva: WHO; 2009. http://whqlibdoc.who.int/ publications/2010/9789241563888_ eng.pdf?ua=1. Accessed June 23, 2015.