Deep vein thrombosis and air travel: risk management in 2015
Download this issue
Back to summary
Deep vein thrombosis and air travel: risk management in 2015
Michèle CAZAUBON
Vascular Unit, Vein Clinic, American Hospital of Paris, France.
Abstract
Long-haul flights increase the risk of venous thromboembolism (VTE) for several weeks after the flight by 3-fold among passengers compared with the general population. The risk increases with flight duration and persists for several weeks (until week 8) after landing.
This risk is not the same for all passengers and should be determined before any long flight, especially among frequent travellers. The calculation of risk is based on simple clinical data, easily obtained by the treating physician. If the patient has a personal history of VTE and chronic venous disease, a full assessment by a vascular specialist is justified.
Risk management for any passenger taking a long flight is based on some simple advice to follow during the flight.
This article summarizes the current position and recommendations from cardiovascular physicians faced with managing the risk of VTE in patients planning long-haul flights.
Introduction
Cases of venous thromboembolism (VTE) following a flight are occasionally reported by the media, particularly when a celebrity is involved, and have led to the condition being nicknamed "traveller's thrombosis." This article summarizes the epidemiological data on the prevalence of VTE, as well as the current position of cardiovascular physicians faced with managing the risk of VTE in patients planning long-haul flights.
Epidemiological overview
Recent epidemiological data vary widely depending on the thromboembolic location: pulmonary embolism, proximal (including popliteal, femoral, and iliac veins) or distal deep vein thrombosis, superficial venous thrombosis, and by whether the thrombosis is symptomatic or asymptomatic (discovered by chance during a Doppler ultrasound examination).
The prevalence of deep vein thrombosis (DVT) documented by Doppler ultrasound within 48 hours of landing is between 2% and 10%, identical to that of hospitalized patients with a medical illness (Prevention of Recurrent VENous Thromboembolism [PREVENT] study.1
The absolute risk of symptomatic DVT confirmed by Doppler ultrasound is 3.2 (95% confindence interval (95% CI), 1.8, 5.6) after a 4-hour flight, a rate equivalent to one event per 4656 flights according to data from the records of 8755 employees from a range of international companies who travel for business.2 The risk of VTE was increased by exposure to more flights during a short period and to longer flights. Risk was greatest in the first 2 weeks after a flight,3 but remained elevated for 8 weeks.2
Lapostolle et al reported an incidence of pulmonary embolism among passengers arriving at the Charles de Gaulle Airport of 56 per 135 million passengers.4 When the data were analyzed by flight duration, the incidence ranged from 1 event per million passengers, if the flight was less than 6 hours, to 1 event per 700,000 passengers if the flight was longer than 6 hours.
A meta-analysis of 14 studies examining air travel and risk of VTE reported a relative risk of 2.8 (95% CI, 2.2, 3.7).5 This is also the figure reported in the American College of Chest Physicians Evidence-Based Clinical Practice Guidelines.6
The risk of VTE associated with long-haul flights has also been confirmed in an approach using record linkage, which demonstrated that between 4% and 20% of patients with a VTE had travelled in the weeks prior to the acute episode.7
A reminder of the pathophysiological mechanisms favoring venous thromboembolism in air travellers
The pathophysiological mechanisms for VTE are based on Virchow's triad of venous stasis, vascular endothelial lesions, and hypercoagulability of circulating blood. Periods of prolonged sitting without moving the calf muscles promote venous stasis.
The pressurization of the aircraft cabin is also a factor: flights of more than 2400 meters altitude can provoke hypobaric hypoxia, a risk factor for endothelial injury. The level of oxygen saturation in healthy subjects can reach values of 90% with considerable interindividual variations.
Hypercoagulability can be due to dehydration even though there is no formal proof of its role in air travel.6
Not only traveling in economy class, but also prolonged sitting, could cause the so-called "economy class syndrome." The risk of venous thrombosis of the lower limbs after prolonged sitting is well known, whether a result of sitting in front of a computer for several hours (there is even talk of e-thrombosis8) or travelling by bus or train.9
A hypercoagulable state has been demonstrated in marathon runners taking a plane after their race10 and could explain the occurrence of thromboembolic events in young, high-level athletes.
The existence of genetic or acquired thrombophilia may also modify the coagulability risk.
A potential thrombotic risk for travellers exists, but it is not the same for every traveller, nor throughout the life of each traveller. The risk of VTE should be established in every subject planning a long-haul flight.
Key steps in the diagnosis of VTE following a flight
Following a flight of 4 hours or longer, the presence of calf pain and/or a swelling of the lower limbs localized at the ankle, calf or thigh, or extending to the entire lower limb, is strongly suggestive of venous thrombosis. Confirmation of the diagnosis of lower limb venous thrombosis is made with Doppler ultrasound. This allows the site of the thrombus in the deep or superficial veins to be specified, how far it extends, and possible associations between deep and superficial thrombosis.
It is particularly important to meticulously examine the popliteal hollow with the patient in a sitting, standing, and supine position. The trunk of the gastrocnemius veins or saphenopopliteal junction (termination of the small saphenous vein in the popliteal vein) are areas particularly susceptible to venous stasis after prolonged sitting, as is the case with long-haul flights (Figures 1 and 2).
Measuring plasma levels of D-dimer complements Doppler ultrasound, but a negative test does not formally eliminate distal vein thrombosis or superficial venous thrombosis.
The use of ultrasound for diagnosis can be problematic in a symptomatic patient who presented with DVT of the lower limbs in the weeks or months preceding the flight. In the absence of previous records, it is sometimes difficult to differentiate recurrent venous thrombosis or simply postthrombotic disease with obstructive sequelae and/or deep valvular reflux. In this case, D-dimers may be normal or increased, and provide little help with confirming–or rejecting–a diagnosis of a new thrombotic episode. In these patients, it is important to estimate the venous risk based on spontaneous, provoked, or previous thrombotic episodes, the presence of any risk factors, and to weigh the benefit/risk of a new anticoagulant treatment. If the Doppler ultrasound confirms the existence of a recent thrombus (eg, nonadherent to the vein wall) anticoagulation therapy must be resumed.
The rupture of a fluid-filled cyst in the popliteal hollow can also occur after travel in a prolonged sitting position, but is easily confirmed by ultrasound. If symptoms suggest migration of a pulmonary embolism (dyspnea, chest pain, hemoptysis), angiography is urgently required and hospitalization is preferred for at least 24 to 48 hours.
Risk factors for VTE in travellers
A study by Kuipers et al, on nearly 9000 passengers with a total follow-up time of around 40,000 patientyears, identified a number of VTE risk factors for individual travellers including: female sex, especially if using oral contraceptives; a height 185 cm; and a body mass index >25 kg/m2.2 However, the small number of patients with VTE in this study (n=53) did not allow further statistical analysis.
The majority of studies in the American College of Chest Physicians Clinical Practice Guidelines6 confirm the existence of risk factors in patients with VTE after a longhaul flight and also help to define patients at high risk of VTE. These factors include: prior history of VTE, recent surgery (1 month), recent trauma of the lower limbs, cancer, pregnancy, estrogen-progestin treatment, reduced mobility, congestive heart failure, severe obesity, known thrombophilia, and age >65 years.
In a set of UK guidelines published in 2010, experts defined three risk groups: low, intermediate, and high according to the presence of VTE risk factors (Table I).11
Preventive measures adapted to the number of risk factors, could certainly reduce the incidence of VTE associated with long-haul flights.
The key to preventing VTE among passengers on long-haul flights
Information provided to travellers by airlines concerning the risk of VTE after a long flight is still inadequate.12,13 Therefore, it falls first to the treating physician and/or cardiovascular specialist to provide advice, which should be accompanied by prevention tips based on findings from randomized controlled trials and adapted to an individual traveller's thromboembolic risk. A study by the French Society of Angiology in 2011 confirmed travellers' lack of knowledge concerning these VTE prevention tips and the information disseminated by the airlines companies (Table II).13
1. General rules
Choose a seat next to the corridor rather than the window to be able to stand easily, wear loose clothing and loosefitting shoes, do not place bags beneath legs as this further limits the space available, practice regular flexion/ extension movements of the feet and ankles during the flight. These venous "anti-stasis" measures benefit from a Grade 2 recommendation in the American College of Chest Physicians Guidelines.6
Travellers are also advised to drink plenty of water and no alcohol,6 even if this has not been shown to have a prophylactic effect in relation to VTE.
2. Medical compression
According to the results of a meta-analysis, compression socks ensuring a compression of 15 to 30 mm Hg at the ankle (ie, Class 2 and 3 according to French standards) reduce the percentage of DVT detected by Doppler ultrasound (i.e. asymptomatic DVT): 0.2% with compression socks versus 3.6% without.14
Moreover, medical compression has proven efficacy for the prevention of edema, well known to passengers during landing and sometimes so important that they can no longer get their shoes back on. However, randomized, double-blind, controlled trials are lacking. Even passengers with varicose veins have a limited knowledge of the benefits of medical compression during a flight (Figure 3).
Should medical compression be recommended to all passengers undertaking a long-haul flight?
The American College of Chest Physicians suggest that medical compression should not be recommended for all passengers (Grade 2C).6 Advice from the French Society of Angiology (www.angeiologie.fr) (Table III) suggests Class 2 medical compression for all passengers taking flights longer than 4 hours. We also recommend increasing the class of compression above that usually worn for all patients with chronic venous disease. Doppler ultrasound may be useful for selecting the best compression in case of chronic venous insufficiency of the lower limbs. Global advice to air travellers are systematically delivered when possible (Figure 4).
The study by the French Society of Angiology has confirmed the great disparity in the choice of compression prescribed before a long journey: while below knee socks are unanimously worn by men, some women prefer tights or compression stockings to socks.
The presence of varices in the region of the small saphenous vein, especially if located in the popliteal hollow, should be treated preferably with thigh compression to prevent varicose constriction during prolonged sitting.
Contrary to what some users of first-class air travel believe, the courtesy socks offered by airlines are not medical compression socks!
Medical compression for travellers at high risk of VTE
For long-distance travellers at increased risk of VTE, the American College of Chest Physicians suggest the use of a compression sock providing 15 to 30 mm Hg pressure at the ankle (Grade 2C).6 This corresponds to class I compression therapy in Europe, and to class II in France. (Table IV) The absence of randomized, controlled, double-blind studies explains the weakness of this recommendation.
3. Aspirin
The American College of Chest Physicians recommendations concerning aspirin are clear: for travellers undertaking longhaul flights they suggest to not use aspirin to prevent VTE (Grade 2C). One of the reasons for this recommendation is because of an increased risk of bleeding with aspirin.
4. Anticoagulants
Thromboprophylaxis should be considered on a case by case basis depending on the presence of one or more thromboembolic risk factors, taking into account the benefits and risks of treatment (especially bleeding).
It is based on the use of low-molecular-weight heparins (LMWH) and fondaparinux (factor Xa inhibitor). The new oral anticoagulant therapies currently have no indication in this context. The usual contraindications for these agents should be respected.
The prescription can be made by the treating physician: travellers can perform the subcutaneous injection themselves just before their flight (outbound and return).
Reminder of LMWH prescriptions before a long-haul flight
• Enoxaparin (Lovenox) 40 mg subcutaneously, a single injection before the flight (outbound and return).
• Daltepraine (Fragmin) 5000 IU subcutaneously, a single injection before the flight (outbound and return).
• Tinzaparin (Innohep) 4500 IU subcutaneously, a single injection before the flight (outbound and return).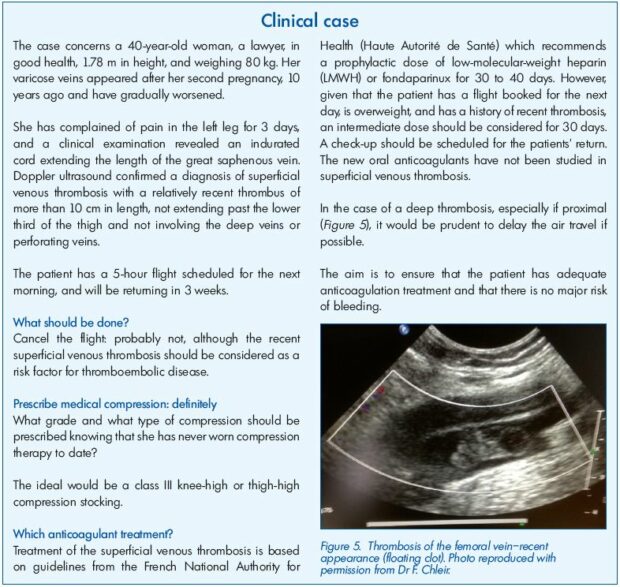 • Fondaparinux (Arixtra) is prescribed at a dose of 2.5 mg subcutaneously, a single injection before the flight (outbound and return).
All LMWH prescriptions should be weight adjusted if there is severe renal impairment (creatinine clearance
The American College of Chest Physicians recommends the use of LMWH for long-haul flights of over 8 hours, only in air travellers with high risk of VTE (Table V).6
The French Society of Angiology recommendations differ only for flights with a duration of 3- to 8 hours where medical compression is prescribed for all passengers, adjusting the compression class to an individual's history of thromboembolism.
Conclusion
Risk management for any passenger taking a long flight is based on some simple advice to follow during the flight. We strongly recommend that all passengers wear medical compression socks. Thromboprophylaxis with LMWH is required for travellers at high risk of VTE, taking into account the risk of bleeding. Time will determine the place of oral anticoagulants in this area.
Finally, young travellers are not immune to the risk of thrombosis: in particular, young women using oral contraceptives and high-level athletes, especially when returning from a competition.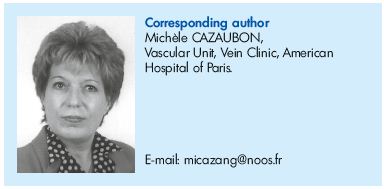 REFERENCES
1. Brenner B. Travel-related thrombosis: is this a problem? JAMA. 2006;8:859-861.
2. Kuipers S, Cannegieter SC, Middeldorp S, et al. The absolute risk of venous thrombosis after air travel: a cohort of 8,755 employees of international organizations. PLoS Med. 2007;4:1508- 1514.
3. Kelman CW, Kortt MA, Becker NG, et al. Deep vein thrombosis and air travel record linkage study. BMJ. 2003;327:1072-1075.
4. Lapostolle F, Surget V, Borron SW, et al. Severe pulmonary embolism associated with air travel. N Engl J Med. 2001;345:779-783.
5. Chandra D, Parisini E, Mozaffarian D. Travel and risk for venous thromboembolim. Ann Intern Med. 2009;151:180-190.
6. Kahn Sr, Lim W, Dunn AS, et al; American College of Chest Physicians. Prevention of VTE in nonsurgical patients: Antithrombotic Therapy and Prevention of Thrombosis, 9th ed: American College of Chest Physicians Evidence-Based Clinical Practice Guidelines. CHEST. 2012;14:e195S-226S.
7. Scurr JH, Machin SJ, Bailey-King S, Mackie IJ, McDonald S, Smith PD. Frequency and prevention of symptomless deep-vein thrombosis in long-haul flights: a randomised study The Lancet. 2001;vol. 357:1485-1489.
8. Healy B, Levin E, Perrin K, et al. Prolonged work-and computer-related seated immobility and risk of venous thromboembolism. J R Soc Med. 2010;103:447-454.
9. Signorelli C, Pasquarella C, Trabacchi V, et al. Economic class syndrome: epidemiological features and preventive measures. Ig Sanita Pubbl. 2011;67:169- 189.
10. Parker B, Augeri A. Effect of air travel on exercise-induced coagulatory and fibrinolytic activation in marathon runners. Clin J Sport Med. 2011;21:126-130.
11. Watson HG, Baglin TP. Guidelines on travel-related venous thrombosis. Br J Haematol. 2010;152:31-34.
12. Scurr JR, Ahmad N, Thavarajan D, Fisher RK. Traveller's thrombosis: airlines still not giving passengers the WRIGHT advice! Phlebology. 2010;25:257-260.
13. Cazaubon M, Belcaro G, Anastasie B, et al. Audit de la SFA sur les habitudes des patients lors des vols aériens vis-à-vis de la compression médicale. Angeiologie. 2012;1:79-80.
14. Clarke M, Hopewell S, Jusczak E, et al. Compression stockings for preventing deep vein thrombosis in airline passengers. Cochrane Database Syst Rev. 2006(2);CD004002.