Exchanges between European and American physicians: the first American Venous Forum, Servier Traveling Fellowship
Download this issue
Back to summary
Charles E. STONEROCK
South Carolina, USA
Report from Charles E. Stonerock (Indianapolis, USA), winner of the 2006 AVF/Servier Fellowship
BONJOUR MESDAMES ET MESSIEURS,
My name is Charles Stonerock and I have recently completed a Peripheral Vascular Surgery Fellowship at Indiana University, Indianapolis, IN. I have been fortunate enough to have been awarded the Servier Traveling Fellowship for my work in Deep Venous Thrombosis Diagnosis last year and would like to give an update of my experiences, and how they have changed my current practice of medicine.
The Servier Traveling Fellowship was established to promote better communication and understanding on the treatment of venous diseases between European and American physicians. The first leg of my journey was to attend and present at the European Venous Forum in London. After that insightful meeting, I traveled to Paris where I spent the day at Servier on Neuilly/sur/Seine. There, I spent time with Director Françoise Pitsch and her colleagues concerning the mission statement and overall goals of Servier in the treatment of patients afflicted with venous diseases. In addition, I was able to visit their research lab and see the future advances they are striving to achieve (though I can't be more specific as I am "sworn to secrecy").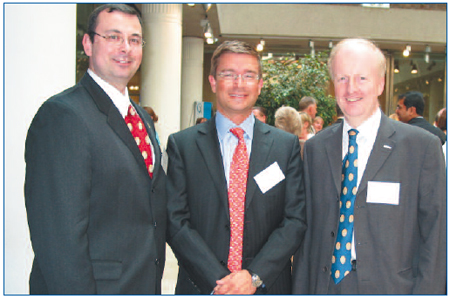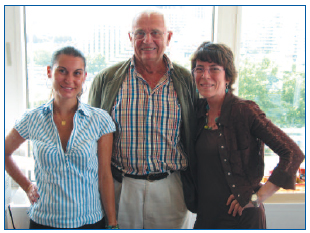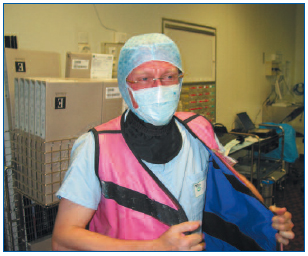 The next leg of my journey was to Lyon, where I spent two days with Dr Philippe Nicolini at his clinic. We focused on an array of endovascular techniques, including recanalization techniques, coil embolization, and alcohol ablation, the use of intraoperative ultrasound, as well as radiofrequency ablation. I also had the pleasure of participating in open techniques such as valvuloplasty, which is not a common procedure in the United States. Fortunately for me, I also learned why Lyon is the "heart" of French gastronomy; however, it was unfortunate for my waistline but well worth the experience.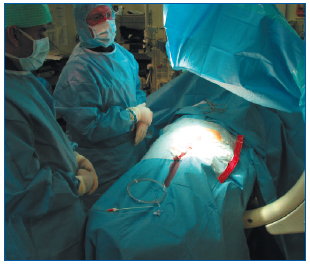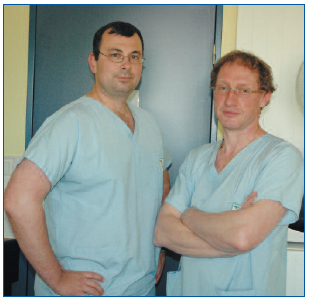 From there, I traveled to Bourgoin-Jallieu, where I spent several days with Dr Jean-Luc Gillet at his office. Dr Gillet is well known for his work in foam sclerotherapy and I was able to learn first-hand the basic techniques and principles in the use of ultrasound in diagnosing venous insufficiency. In addition, I was able to improve my skills in injection sclerotherapy for venous varicosities, perforator veins, as well as the greater and lesser saphenous veins. I was also able to see the differences, as well as the similarities, in the difficulties in running an office-based practice in France compared with the US. While the main focus of education was on medicine, there was a substantial amount of cultural education as well. I do speak French; however, not nearly as was well as I did several years ago. My hosts were gracious enough to speak "en français" as much as possible to help me regain some of my abilities. Even more so, they were more than polite with me even when I knew that I had committed a "grammatical atrocity." I am also very grateful to Dr Gillet and his wife for allowing me to stay at their house and immersing me in French culture. I must admit, the view of the Rhone-Alps is much more pleasant than the flat plains of the Midwestern US. As a reflection, I do find my experiences in France to be less hectic and chaotic than my experiences in the US. As an American, I feel that we have a more "hustle and bustle" lifestyle in which we are more likely to neglect to take time and enjoy some of the simple pleasures in life.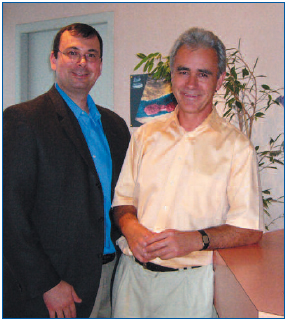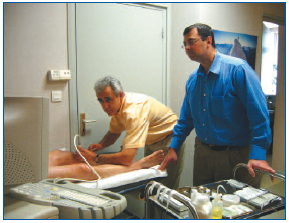 After this trip, I have taken what I have learned and assimilated it into my own surgical practice. One main difference between our practices is the way we run ultrasonography. In France, most of the physicians that I encountered perform their own ultrasounds. While I am required to understand the principles and perform ultrasounds myself, American physicians have a more "hands-off" approach and have the majority of the work performed by technicians. I feel that I have developed a better understanding of venous ultrasonography and, as such, have done more work to communicate and work more closely with my vascular technicians. In addition, I am starting a vein clinic and trying to educate the surrounding community more about venous diseases and the forms of treatment available. I am also becoming more involved with a wound care center.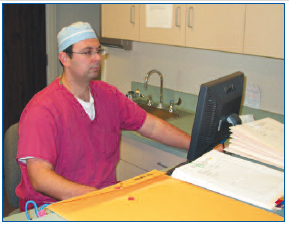 I feel very fortunate for this experience. Not only do I feel that it has made me a better diagnostician and physician, but I feel that it has enriched me as a person. I have not only met fellow colleagues, but I have gained good friends. As such, I feel that the communication between our cultures is improving, which is required, as we are becoming more of a global community. I am deeply indebted to Servier for this once in a lifetime experience. I would like to specifically thank Director Françoise Pitsch for her integral role and I look forward to the future. In addition, I am grateful to Drs Nicolini and Gillet as well as their families for their gracious hospitality. I would also like to thank Dr Michel Perrin for all of his hard work and assistance during this experience. And finally, I would like to thank the American Venous Forum and its sister organization, the European Venous Forum, which have been striving to promote interest, research, and communication in venous disorders;
Merci beaucoup!