The Second American Venous Forum, Servier Traveling Fellowship A report from Reagan W. Quan (Washington, DC, USA), recipient of the 2007 AVF/Servier Fellowship
Download this issue
Back to summary
A report from Reagan W. Quan (Washington, DC, USA), recipient of the 2007 AVF/Servier Fellowship
Reagan W. QUAN
Vascular and Endovascular Surgery,
Walter Reed Army Medical Center,
DC 20307 Washington, USA
The Servier Traveling Fellowship was established for postgraduate vascular physicians or surgeons. It is designed to help further understanding between European and American physicians in the treatment of venous diseases. Following the completion of my Vascular Surgery Fellowship at Walter Reed Army Medical Center in Washington, DC, I was afforded a once-in-a-lifetime opportunity. As a result of my research on Repair of Military Venous Trauma and Thromboembolic Events, much to my delight I was awarded the Servier Traveling Fellowship. This award allowed me to travel abroad and gain a better understanding of treatment of venous diseases from European physicians.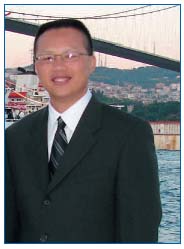 My starting point was Istanbul, Turkey, where I presented my research at the European Venous Forum. This meeting included a dinner at an outdoor fish restaurant following a sunset boat trip along the Marmara Sea, which separates the European and Asiatic halves of Istanbul. I also visited ancient landmarks such as the Blue Mosque, the underground cisterns, and the Hagia Sophia (a church built during the crusades and later converted into a mosque).
After this insightful meeting, I traveled to Paris. On my first day, Servier sponsored a guided chauffeured tour of Paris. We visited the courtyard of Louis XIV, Notre Dame Cathedral, Napoleon's tomb, had lunch at the Louvre, and, of course, visited the Eiffel Tower. I also learned a little bit of history from the tour guide at each site that we visited.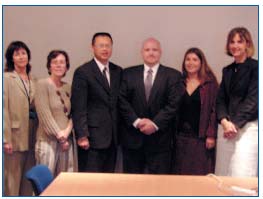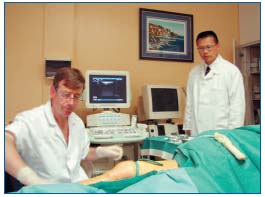 The following day, I met with Dr Françoise Pitsch and we visited the Servier Research Laboratory. I learned of the many basic science research projects that are ongoing for future drug development. Unfortunately, I can't discuss this proprietary information. In the afternoon, I met with Dr Jean-Luc Gérard, who works as a phlebologist and angiologist in private practice. He demonstrated the combined use of a 1024 nm laser and actetaxol foam sclerotherapy for the treatment of venous varicosities in an outpatient setting. Dr Gérard emphasized the importance of duplex ultrasound in the diagnosis and treatment of venous diseases. He performs all of his own ultrasound and is exceptionally skilled at it. This will become one of my goals as I enter medical practice.
On the third day, I was with Dr Christian Lebard of the Clinique Monceau. This clinic located in Paris is the original site of the construction of the Statue of Liberty. In contrast to office-based laser treatment of varicose veins, Dr Lebard prefers to use radiofrequency ablation in conjunction with sclerotherapy in the operating room. He explained its advantages and demonstrated the use of the ClosureFastTM on three patients. That evening, I traveled to Lyon by train.
In Lyon, Drs Philippe Nicolini and Michel Perrin were my hosts a dinner. Lyon is known as the food capital of France. We ate at a local restaurant called 'Le Bouchon'. Being adventurous, I had the regional specialty of Tablier de Sapeur (breaded, fried omentum). It tasted wonderful and I slept well that night. The next morning I went to the Clinique du Grand Large, a private practice hospital. The day was focused on endovascular recanalization of iliocaval thrombosis, and iliac vein stenting for the treatment of May-Thurner syndrome with Dr Nicolini.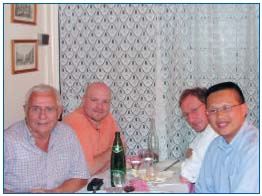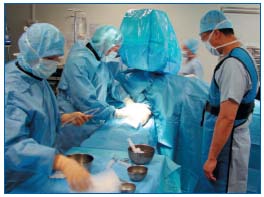 That evening, I traveled by train to the city of Marseille, which is on the Mediterranean Sea. I met Professor Yves Alimi and Dr Olivier Hartung at the university-based Hôpital Nord, and we went for dinner. The restaurant was situated at the mouth of the city harbor and the view was spectacular. Looking north there were the moored ships and edge of the city, and to the south was the Mediterranean Sea.
The next morning, I started my day with bedside teaching rounds with Dr Hartung and his surgical house officers. After the rounds, I went to the operating room. The three cases of pelvic congestion syndrome were treated by endovascular embolization of the ovarian vein, using coil-foam-coil "sandwich" technique.
This was my first trip to Europe and I am very fortunate to have had this opportunity. I will take what I have learned from this experience and incorporate it into my own surgical practice. In France, most of the physicians I worked with performed their own ultrasound. But, more importantly, they were extremely skilled at ultrasound-guided surgical techniques. This has motivated me to continue to develop my own ultrasound skills in the operating room and in the vascular lab. Additionally, my experience of venous diseases has been broadened. I have gained an appreciation of the complexity of diseases such as pelvic congestion syndrome and iliocaval thrombosis. Lastly, I have developed a better understanding of and improved communication with vascular physicians and surgeons abroad.
This was a very rewarding experience. Not only did I get to work with new colleagues, but I have also made new friends. I feel that my experience and contacts have brought us closer together as members of a global medical community.
I would like to thank Dr Françoise Pitsch and Dr Michel Perrin for their assistance and companionship during this exchange. I am grateful to Servier and to the American and European Venous Forum for offering this lifetime opportunity to foster my interest in the treatment of venous diseases.